We participated on the prestigious scientific conference ICOS 2022
Our colleagues Kristína Tonhauzer and Ján Horváth participated in the prestigious ICOS global conference in September 12-15, where they presented the results of their work on the topic "How to rebuild Slovak agriculture and transport for a sustainable future?"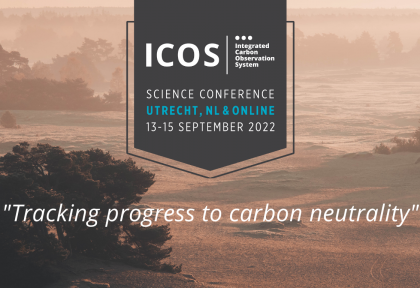 ICOS (Integrated Carbon Observation System) aims to produce standardized, high precision and long-term observations and facilitate research to understand the carbon cycle. It promotes technological developments and demonstrations related to greenhouse gases by linking research, education and innovation. It aims to support the adoption of policies and measures and help decision-making to combat climate change and its impacts.
Every two years, ICOS prepares a conference to exchange knowledge and the latest science between experts and scientists from all over the world. After four years, representatives from Slovakia were also present. In their contribution, Kristína Tonhauser and Ján Horváth reported on the state of emissions and forecasts of the development of emissions in the agriculture and transport sectors. They presented possible policies and measures that could significantly reduce greenhouse gas emissions in these two sectors. The presented work followed the analyzes of the development of sectors that are part of the draft of the Act on climate change and sectoral goals in road transport and agriculture.